Bio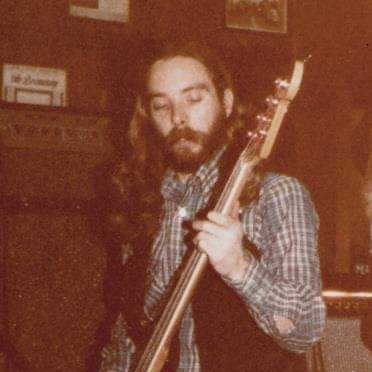 Bassist/Songwriter Steve Carey
Steve like most the musicians who grew up in the 1960's became hooked after seeing the Beatles on the Ed Sullivan show and joined some of the other kids in his neighborhood that were putting bands together to play Beatles music. With everyone in his band playing guitar Steve switched over to bass and never looked back.
Some of the other major influences he listened to as he developed his skills were bassist such as; James Jamerson, Donald "Duck" Dunn, Calvin "Fuzz" Jones, Ray Brown, Larry Taylor, Tommy Shannon, and Berry Oakley, along with bands such as; Muddy Waters, B.B.King and the Allman Brothers Band to name a few. Although performing most styles of music over the years the blues have always been his favorite.
Steve was honored and pleased to be profiled in author Mark Opsasnick's most recent book,
ROCK THE POTOMAC "Popular Music and Early-Era Rock and Roll in the Washington D.C. Area".
Published by BookLocker.com,Inc,2019 www.booklocker.com
An excerpt from the book:
"Bassist Steve Carey was born in Riverdale, Maryland and was mainly raised in Lanham, Maryland. He bought his first guitar at age 12 and a friend from the neighborhood named Larry Wilson taught him how to play. During his years at Robert Goddard Junior High School and DuVal High School in the late 1960s he played bass in a rock and roll band called the Unknown Kind, which performed on the local teen dance circuit. Carey then spent much of the early 1970s jamming with neighborhood musicians.
In 1975 Carey rented a house in Bowie, Maryland and put together a rock and roll band called T-Bone which consisted of Carey on bass, singer-guitarist Mitchell Sperty, guitarist Mark Land, harmonicist Bill Jasper, drummer Tom Brocato, and occasional guitarist Brian Sperty. The group covered such artists as the Eagles, Pure Prairie League, Bad Company, the Marshall Tucker Band and the Allman Brothers Band. T-Bone performed at private parties and dances in Maryland at the Beltsville Volunteer Fire Department (Beltsville) and the Branchville Volunteer Fire Company (College Park).
Late in 1975 T-Bone disbanded. Carey, Land and Mitchell Sperty then welcomed in singer-saxophonist-harmonicist Charlie Hastings and drummer Bobby Hawkins. The new quintet then began playing out as the Open Road Band, originally offering a Southern rock style before gradually adopting a more broad-based rock and roll format. In 1976 drummer Elliott Kessler replaced Bobby Hawkins. The group spent most of the 1970s performing at the Village Pub in Seabrook, Maryland.
In 1977 the Open Road Band underwent changes in personnel when Sperty and Kessler departed and were replaced by singer-guitarist Dave Williams and drummer Birdie Williams, both former members of the rock and roll band God Mother County. For the next seven years the group performed in Washington, D.C. at the Crazy Horse, the Bayou and the Wax Museum, and in Virginia at Louie's Rock City (Bailey's Crossroads) and the Wild West (Springfield). In the late 1980s and early 1990s the band regularly appeared at such Maryland night clubs as Lasick's College Inn (College Park), the Princess Garden Inn (Lanham), Remington's Restaurant (Beltsville) and the Riverdale Pizza Pub (Riverdale).
The Open Road Band experienced personnel changes along the way. In 1983 Dave Williams was replaced by singer-guitarist Leon Jewett. After a break in 1984, the band was reorganized with a new lineup of bassist Steve Carey, guitarist Mark Land, lead singer-guitarist Mitchell Sperty, singer-keyboardist Dave Paolucci and drummer Mike Mautino. This version of the group lasted through 1994."
In 1995 Steve hooked up with singer-harmonicist and old friend Bill Jasper to form Big Bill and That's Cool. The other original members included singer-guitarist Dave Long and drummer Mike Mautino. Big Bill and That's Cool had several personnel changes along the way such as: drummers Dirk Esham, Kevin Flowers, Chip Clemmer and Ed Holson; guitarist Kenny Lloyd, Wayne Tomlinson, Dave Barnhart and Scott Dyer; keyboardist Steve Wronski and Liz Lohr. In 2003 the lineup of singer-harmonicist Big Bill Jasper, bassist Steve Carey, guitarist Scott Dyer, singer-keyboardist Liz Lohr and drummer Ed Holson recorded a number of original songs by Big Bill along with co-writes from Steve and Liz Lohr that were never released on an album. Sadly Big Bill has passed and in his memory Steve has decided to share some of the demo's from those recording sessions. Those Big Bill and That's Cool songs along with some of the other songs Steve has recorded on can be found on his music page.
In 2005 Steve began attending local Maryland blues jams at Lassicks College Inn (College Park), the Surf Club (Hyattsville), and the Old Bowie Town Grille (Bowie). These sessions allowed him to meet some the finest players in the area and play bass alongside such musicians as: guitarist Chick Hall Jr., Dave Chappell, Pete Kanaras, Robert Frahm, Mike Dutton, Automatic Slim, Warner Williams, Andy Poxon, and Paul Mastradone; singer-harmonicist Brett "Big Boy Little" Littlehales; keyboardist Pete Locke, Tommy Lepson and Sam Paladino; drummers Pete Ragusa and Chip Clemmer.
It was from those jams that Steve began to play and is currently playing with one of the premiere blues bands of the nation's capital, the Paulverizers. Fronted by singer-guitarist Paul Mastradone the current band lineup consist of Mastradone, Steve Carey on bass, singer-harmonicist Brett "Big Boy Little" Littlehales, keyboardist Sam Paladino, and drummer Steve Watson.
Starting in 2008 Steve played for 11 years with the Joy B Band, a Washington D.C. area Americana group whose lineup included singer-songwriter guitarist Joy Bodycomb, singer-guitarist Dave Long, and drummer Chip Clemmer. In 2013 the Joy B Band released their CD "Just Livin" and Steve wrote two of the songs included on the album, "Going Away Baby" and "Open Road". The Joy B Band was nominated by the Washington Area Music Awards for Best Roots Rock Group and Best Roots Rock Recording for "Just Livin" in 2015.
On December 1, 2011 bassist Steve Carey and drummer Chip Clemmer backed up nationally-recognized Blues Rock singer-guitarist Shane Dwight during a live recording session at Sirus XM's studio in Washington D.C. The songs were broadcasted on Sirus XM's satellite radio program "B.B. King's Bluesville" hosted by Bill Wax.
Some of the other bands Steve has played bass for include original rock and roll group StradBoLand and such blues bands as Steve Smith and His Meteors, Scott Ramminger and the Crawstickers, the Swampkeepers, Bad Influence, the Andy Poxon Band, Fast Eddie and the Slowpokes, Capital Blues Ensemble, and most recently with Low Rent Quartet, the Chopper Land Band, the Ray Tilkens Trio, Mary Shaver and Patsy's Honky Tonk Torch and Twang.
Steve is currently living in Greenbelt, Maryland with his wife Faith and is for the most part retired but still playing live shows along with writing and recording new songs. You can listen to some of Steve's past recordings on his music page and stay tuned for the cd release of his new and first solo album "Living Life like a Song"
"

Steve Carey remains a monument of the DC music scene, combining precision playing with colorful layers of experience, dedication to his craft, and a unique artistic vision. Join him as he moves forward with new musical adventures." - Mark Opsasnick, author of Rock The Potomac and Capitol Rock